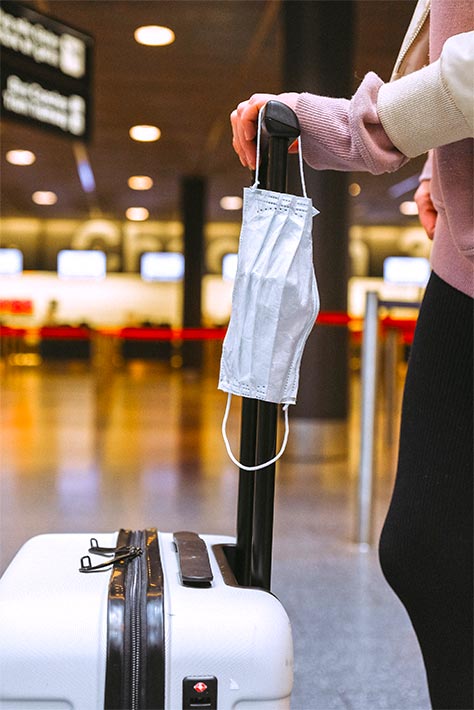 Travel to Cuba in Covid 19 time
Information for tourists, Cubans not resident in Cuba and Cuban residents
From February 6 to October 31, 2021, Cuba has developed new protocols
to enter the country, depending on the reason for your trip
TOURISTS
Entry to Cuba is allowed only with Tourist Packages provided in All-Inclusive facilities, among which are present medical personnel, epidemiologist and virologist; Following special protocols, they will perform a Covid test on clients at the arrival airport, they will follow them during their stay in the town, making them use dedicated areas, until the negative result arrives, in about 48/72 hours.
**QUOTES for minimum 5 nights plus transportation, write to: sales@travelnetcuba.com
Every tourist must have a medical health policy that covers against COVID; If it cannot be stipulated in your departure country, when you arrive in Cuba, it will be possible to purchase one from the Asistur company at a cost of aproximately 3-4 usd per day (depending on your age) , with Covid coverage.
It is also mandatory for the Traveler to show the negative result of the Covid exame when leaving their country,
carried out not more than 72 hours ago, in a laboratory or recognized health institution.
We are available for ADVICE and QUOTES write to: sales@travelnetcuba.com
Our Packages are official and operated in partnership with "Cubatur".
**Packages valid for tourists and non-resident Cubans 6 days / 5 nights in full board + transfer from the airport (in the hotel province) **
Price per person
HAVANA
HOTEL VILLA BACURANAO o VILLA PANAMERICANA - 240 euro in Doble Room / Single Room 270 euro**
HOTEL VILLA BACURANAO o VILLA PANAMERICANA - 240 euro in Doble Room / Single Room 270 euro
HOTEL TULIPAN: 299 usd in Double Room / Single Room 345 usd
HOTEL VEDADO: 322 usd in Double Room / Single Room 424usd
HOTEL COMODORO: 380 usd in Double Room / Single Room 414 usd
HOTEL PRESIDENTE: 405 usd in Doble Room / Single room 528 usd
HOTEL CAPRI: 480 usd in Double Room / Single Room 680 usd
HOTEL QUINTA AVENIDA: 552 usd in Double Room / Single Room 708 usd
HOTEL MELIA HABANA: 650 usd in Double Room / Single Room 830 usd
HOTEL IBEROSTAR PARQUE CENTRAL: 750 usd in Double Room / Single Room 950 usd
Children from 2 to 12 years old with 2 adults 50%
VARADERO - (ASK FOR A PROGRAM)
HOTEL STARFISH LAS PALMAS: 384 usd in Double Room / Single Room 474 usd

CAMAGUEY
HOTEL PLAZA : 288 usd in Double Room / Single Room 328 usd - Children from 2 to 12 years old with 2 adults 50%

SANTIAGO DE CUBA
HOTEL VERSAILLES: 299 usd in Double Room / Single Room 354 usd - Children from 2 to 12 years old with 2 adults 50%

OFFERS WITH ARRIVALS IN HAVANA AND TRANSFERT TO PROVINCES
Price per person
Packages valid for tourists and non-resident Cubans 6 days / 5 nights in full board + transfer from HAVANA airport -

CAMAGUEY: Hotel Plaza 590 usd in Double / Single Room 610 usd
HOLGUIN Hotel Mirador de Mayabe 715 usd in Double / Single Room 745 usd
VARADERO[\[Hotel Starfish Las Palmas\] 410 usd in Double / Single Room 490 usd
CIEGO DE AVILA Hotel Sol Cayo Coco 680 usd in Double / Single Room 745 usd
VILLA CLARA Hotel Granjita 445 usd in Double / Single Room 470 usd
SANTIAGO DE CUBA Hotel Versalles 835 usd in Double / Single Room 890 usd
SANTIAGO DE CUBA Hotel Casa Granda 865 usd in Double / Single Room 925 usd

NON-RESIDENT CUBANS OR FOREIGNERS with JUSTIFIED REASONS
Entry to Cuba is allowed only with Special Isolation Packages, of 6 days / 5 nights, provided in dedicated facilities in the main cities, purchased by accredited Tour Operators in Cuba. These are packages that consist of Airport / Hotel Transfer. And 5 nights in Full Board.
The passenger will be subjected to a tampon at the airport upon arrival and later at the facilities where they will choose to stay.
After 6 days, if both have given negative results, it will be possible to continue with your travel program freely.
All Cuban non-residents and foreigners must have a medical health policy that covers against COVID; If it cannot be stipulated in your departure country, when you arrive in Cuba, it will be possible to purchase one in Cuba airport at arrival from the Asistur company at a cost of 3-5 usd per day (depending on your age) , with Covid coverage.
It is also mandatory for the Traveler to show the negative result of the Covid exame when leaving their country,
carried out not more than 72 hours ago, in a laboratory or recognized health institution.

INSULATION packages are available in HAVANA, VARADERO, SANTA CLARA, CAMAGUEY, HOLGUIN, SANTIAGO
We are available for ADVICE and ESTIMATES write to: sales@travelnetcuba.com

CUBANS RESIDENTS
Upon arrival in Cuba, a free isolation stay is offered at state facilities.
The passenger will be subjected to a tampon at the airport upon arrival and later at the facilities where they will choose to stay.
If both are not successful, it will be possible to continue your travel program freely and reach your residence.
It is also mandatory for the Traveler to show the negative result of the swab when leaving their country, carried out not more than 72 hours ago, in a laboratory or recognized health institution.
SPECIFICATIONS FOR CUBA RESIDENT TRAVELERS WHO ARRIVE THROUGH THE VARADERO AND CAYO COCO TOURIST DESTINATION AIRPORTS
From 15/7 Cuban travelers arriving through these airports will isolate themselves in the province of arrival, for the stipulated term of 14 nights and 15 days.
The return transportation to their province of residence from the facility where they perform their isolation, must be assumed by each traveler, in the means available for it, according to current rates.

SPECIFICATIONS FOR CUBA RESIDENT TRAVELERS ARRIVING THROUGH THE AIRPORTS OF HAVANA AND SANTIAGO DE CUBA
For these travelers the stay in isolation centers is kept free for 5 nights and 6 days.
The expenses for transportation services, from the airport to the isolation center and then back to their area of residence, must be borne by the travelers themselves, according to current rates and including overweight luggage.

+