Hotels in Playa Santa Lucia
Camaguey is one of the most important city of the country with one of the most beautiful historical centres of Cuban cities, and it?s plenty of great civil and religious constructions whose walls stores a history of centuries. The main tourist attractive is in Santa Lucía, an eddy of peace transformed into a beach of 20 km of extension in the north coast, with the charms of its nature and the presence of gulls and flamingos, in this wonderful spa melt beauty, comfort and nautical sports practice. Just a few miles from de coast you will find the biggest coralline barrier in Cuba, exclusive scenario for submarine depths lovers, that offers more than 30 diving points and allows the view of beautiful seascapes becoming diving an unavoidable option. In the outskirts of the city, you can appreciate the mountains of Sierra of Cubitas that holds several caverns. Camagüey is also known as the city of the tinajones (large clay pot) by the presence of these enormous recipients of cooked mud, used in the past to store the rainwater and today as decorations in gardens, portals and parks.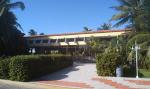 Club Amigo Mayanabo is a three star hotel located on Santa Lucia beach, in Camaguey, Mayanabo hotel is about a 110 km from the Camaguey airport and is situated directly on a beautiful beach with excellent diving and snorkelling . The hotel offers a friendly atmosp...
See more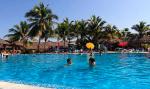 The Hotel Roc Santa Lucia is set on the white sands of Santa Lucia beach. Completely rebuilt in 2000 with all-new facilities, the Club is the perfect choice for travelers who prefer a more expansive setting. Relax or browse through the small shopping centre, or enjo...
See more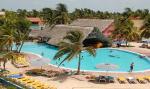 The Hotel Be Live Brisas Santa Lucía is a 4-star all-inclusive hotel in Cuba, located next to the best beaches in the Caribbean. It is ideal for a family holiday, with a wide range of children's entertainment and varied gastronomical offering. Likewise, its faciliti...
See more