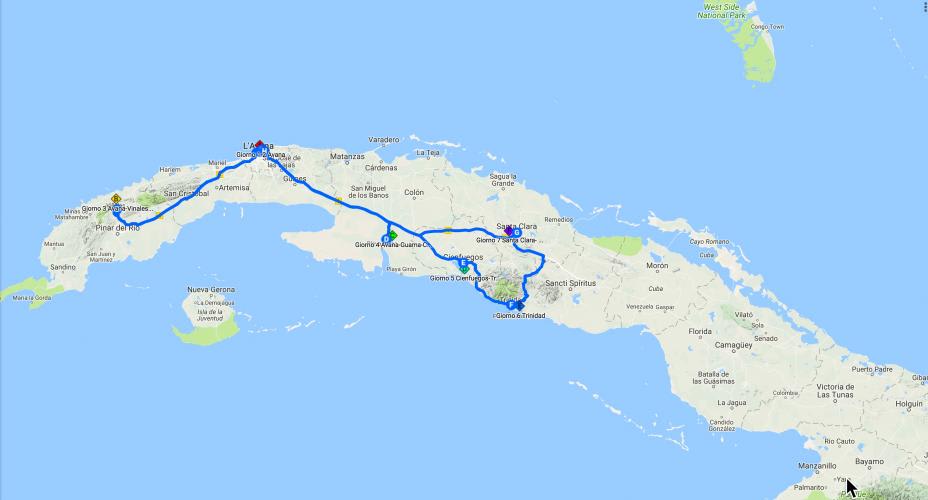 Cuba Tailor Made Tour with auto rental

7

6
Version:

Standard

Route:

Havana - Cienfuegos - Viñales - Trinidad - Santa Clara - Cayo Santa Maria or Cayo Coco or Cayo Guillermo

Days of departure: All days
Price: starting from

339

USD

per person in doble room.
Includes:


- To visiti Cuba in freedom we propose a program with rental car and accommodation in our colonial houses with private bedroom
- Private bathroom
- Air conditioning and breakfast included. We help build the itinerary that best suits your needs and will choose the perfect hotel to end your tour of Cuba with a few days on one of its beautiful beaches. This is the perfect tour for those who love to drive and park at will in the places you meet on your path. Assistance of our staff 24 hours over 24 in your language. PLEASE CONTACT US TO QUOTE YOUR TOUR
Route
Day

1

Arrival at Havana airport, private transfer to Colonial house BnB.

Day

2

Breakfast and departure for the city tour on board vintage cars. Evening in Havana

Day

3

Free day at Havana or excursion to the Vinales and Pinar del Rio valleys to admire tobacco plantations. In the evening RENTING THE CAR.

Day

4

Departure with a car rental to Guama (Bay of Pigs) at your disposal for a visit to the Tainos village or for a bath at Caleta Buena, a night stay at Cienfuegos in our colonial home.

Day

5

Breakfast, departure for an overview of Cienfuegos. Arriving in Trinidad and lodging in our colonial home accommodation.

Day

6

Breakfast, departure to visit Trinidad, recommended valle de Los Ingenious and Playa Ancon.Night in Trinidad

Day

7

From Trinidad to Santa Clara and arrive at the beach in one of the CAYOS (islands) of your choice where you will drop off the car.
To visit Cuba in freedom we propose a program with rental car and accommodation in our colonial houses with private bedroom, private bathroom, air conditioning and breakfast included. We help build the itinerary that best suits your needs and will choose the perfect hotel to end your tour of Cuba with a few days on one of its beautiful beaches.