Private Houses in Playa del Este
Habana del Este (Spanish for "Havana of the East" or Eastern Havana) is one of the municipalities forming the city of Havana. As its name indicates it is on the eastern side of the city, and includes the overspill towns of Camilo Cienfuegos and Alamar as well as the beach towns of Boca Ciega, Tarara, Santa María del Mar and Guanabo. The chain of beaches called the Eastern Beaches (Spanish: Playas del Este) extend for 15 miles along the north coast of Havana City province. The Eastern Beaches are (named from West to East): Tarará; El Mégano; Santa María del Mar; Boca Ciega; Guanabo; La Veneciana and Brisas del Mar. The Eastern Beaches are a very popular tourist spot with excellent natural conditions, though their facilities are very scarce and yet to be expanded.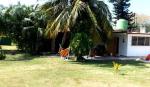 Located in the residential area "Brisas del Mar" near the village of Guanabo at only 100 mt from the beach and 30 minutes from Havana, Baby's House is very cozy and spacious. The tropical garden and the outside of the house allow contact with fantastic vegetation, tr...
See more

The house "the Guajirito" offers all the comfort and luxury of a hotel in the characteristic town of Guanabo, at just 25 km from Havana and directly on the beach, just 15 meters from the crystal clear waters of Playas del Este. A peaceful setting with all the comfo...
See more