Hotels in Las Terrazas - Soroa
(Former Havana Province) Mayabeque: Jibacoa beaches on the northern coast is the main tourist attraction of the province, with a typical landscape of deep blue sea (Gulf Stream) and coastal rocky hills with several accommodations ( Breezes Jibacoa Hotels and Villa Tropico) and Coastal Camping bases east of Havana: Las Caletas, La Laguna, Peñas Blancas, Puerto Escondido, etc. Also high landscape value are the Vía Blanca bordering the north coast (viewpoint Bacunayagua Bridge) and elevations of the stairs Jaruco, which has a base Hotel and Camping. Artemis: The main tourist attractions are located in the Sierra del Rosario, particularly the natural park Soroa (jumping Springs River, `Soroa Orchid Botanical Garden, with the collection of the country's largest orchid) and the area declared as Reserve biosphere (Las Terrazas, Hotel Moka). Also an attraction Ariguanabo River (San Antonio de los Baños, Hotel Las Yagrumas) and some beaches of the north coast ( Baracoa in Bauta, El Salado in Caimito, Mariel Herradura, San Pedro Bay Honda).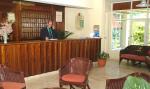 At only 80 km away from the Capital town of Havana the Hotel Soroa is the ideal location for a deep contact with the natural environment of the Sierra del Rosario caracterized by its flora and fauna , waterfalls , rivers and one of the biggest orchid park. All the 4...
See more

Hotel Moka at Las Terrazas is located just forty-nine miles west of Havana in the Sierra del Rosario Biosphere Reserve, Hotel Moka is one of the most unique hotels of Cuba. Set amid the forested hills of Las Terrazas, it's difficult to say where the 4-star hotel stop...
See more