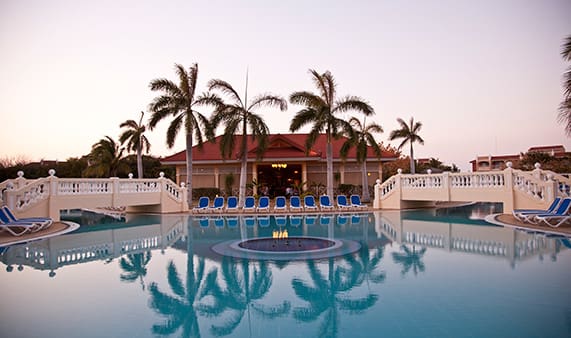 Hotel Memories Varadero
This luxurious 4 star superior Varadero, Cuba hotel offers incredible value with its impressive all inclusive services and deluxe amenities. Located on one of the most beautiful beaches in Varadero, Memories Varadero is an ideal destination for a romantic getaway or a fun family vacation. Admire the spectacular fusion of charming colonial architecture and Caribbean flair at this stunning beach resort. Sparkling pools reflect the clear blue skies and turquoise Caribbean waters, and complement th... See moree lush gardens and tropical foliage that envelop the resort. The spacious guestrooms and suites feature deluxe amenities, rich wood furnishings, and warm and tropical colours that harmonize perfectly with the natural surroundings. Rooms and suites are also offered in a variety of categories to match individual tastes and needs, ensuring the perfect room for families of any size. Memories Varadero restaurants offer a cornucopia of delights to please all palates. Choose from an extensive collection of global cuisines at the 8 à la carte restaurants, including Italian, Japanese, and Mexican, or savour a selection of your favourite comfort foods at the international buffet or 2 snack bars. Offering a different restaurant for each night of the week, you are sure to find the perfect meal. With a wide array of exciting activities and entertainment, Memories Varadero ensures fun for all ages. Participate in daily organized activities, experience a variety of land and water sports, lounge by one of the dazzling pools, or bask under a golden sun on the pristine white sand beach. Whether you want to fill your days with non-stop fun and excitement, experience the vibrant Varadero nightlife, or simply idle your days away while relaxing on the beach or by the pool, Memories Varadero lets you do it all! Escape to one of the finest Varadero resorts with a stay at the Memories Varadero Beach Resort and experience the vacation of a lifetime. At Memories Resorts, our goal is to help you create the best vacation memories you'll ever have. We trust that once you visit us, your family will want to return here time and time again.
Rooms (1035)
Price: starting from 54 USD per person, per night in doble room. From 54 USDBook
Offers
Room Deluxe Room
- Offer Summer valid from 27-09-2017 until 31-10-2017 - From 54 USD Book
Type of accommodation
Facilities
- All Accommodations Include. Bathroom with Bathtub & Shower. Balcony or Terrace. Air Conditioning. Satellite TV. CD Player. Mini-bar (stocked daily). Iron/Ironing Board. Hairdryer. In Room Safe ($). 220v adapter/transformer required. 24 hour food and beverage service. Domestic drinks & selection of international drinks. 4 swimming pools (2 for adults
- 2 for children). Jacuzzi. Ismaelillo Kids Club & Baby Club. Daily & nightly entertainment program. 3 tennis courts. Beach volleyball. Multi-sport court. Non-motorized water sports (catamaran
- windsurfing
- pedal boat. snorkelling). Introductory scuba lesson. Fitness centre (9:00 am – 7:00 pm). Disco.
Map